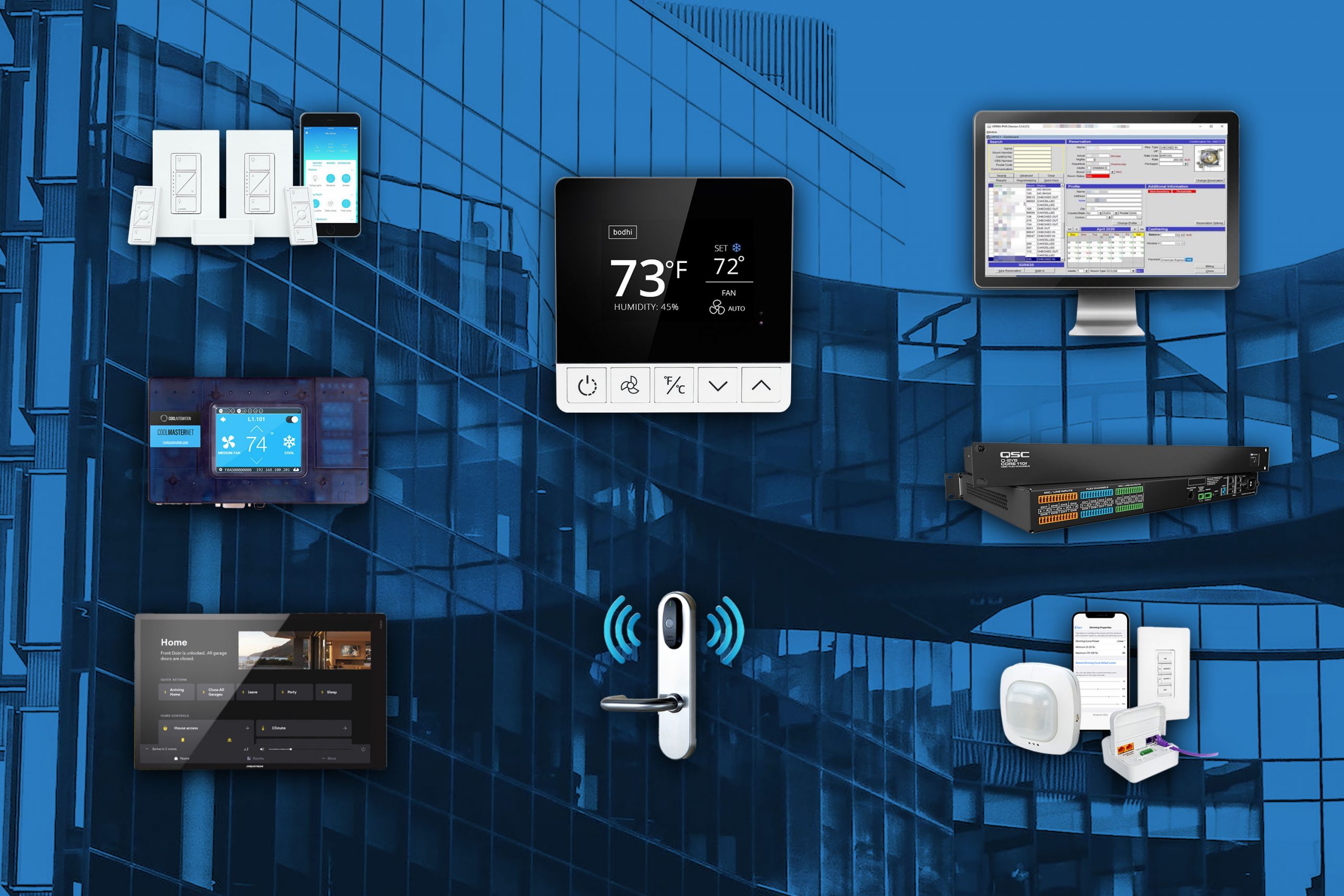 At Bodhi, we believe you should be able to choose the hardware and software that works best on your property, no matter what that might be.
We are "system agnostic," meaning that we can work with the technology offered by a very wide variety of manufacturers and developers, the best in their own respective fields.
The purpose of Bodhi is not to replace any of this technology but to simplify and enhance its management, control and automation. We put all of it together in one place for you and your staff on the Bodhi Dashboard and Scheduler, and for your clients on the Bodhi Guest App and Resident App.
Here's a partial list of the systems we work with today, but please let us know if a system you need to integrate is not listed here.
Lighting and Shading Control
Crestron Commercial Lighting, including Zūm® and Green Light®
All Lutron platforms including Caséta, myRoom, HomeWorks, Athena/Quantum, RadioRA2, and CodeSmart
Rako Lighting Control
Bodhi wireless switches and dimmers
HVAC Control
Bodhi, Crestron, Lutron, and CoolAutomation smart thermostats and the major HVAC systems they control
Compatible with BACnet communications protocols
Door locks and access control
Property Management Systems
Audio and Video Control
Crestron 3-Series and 4-Series Control Systems
Crestron Home
QSC Q-Sys
IoT Devices
From Bodhi and other manufacturers:
Occupancy sensors
Water, flood and humidity sensors
Door and window position sensors
Wireless air quality sensors
Controllable AC outlets
Wireless water meter
Water flow shutoff valves
(We connect via Wi-Fi, LTE cellular, Z-Wave or Zigbee radio protocols, wired general purpose inputs, and LoRaWAN wide area network gateways.)
User Devices
Any Internet capable device running a recent web browser:
Windows and Macintosh computers
Android and iOS phones
Android and IOS tablets
Contact us for more information – or if you're interested in integrating Bodhi with a system or service not currently shown on this list.