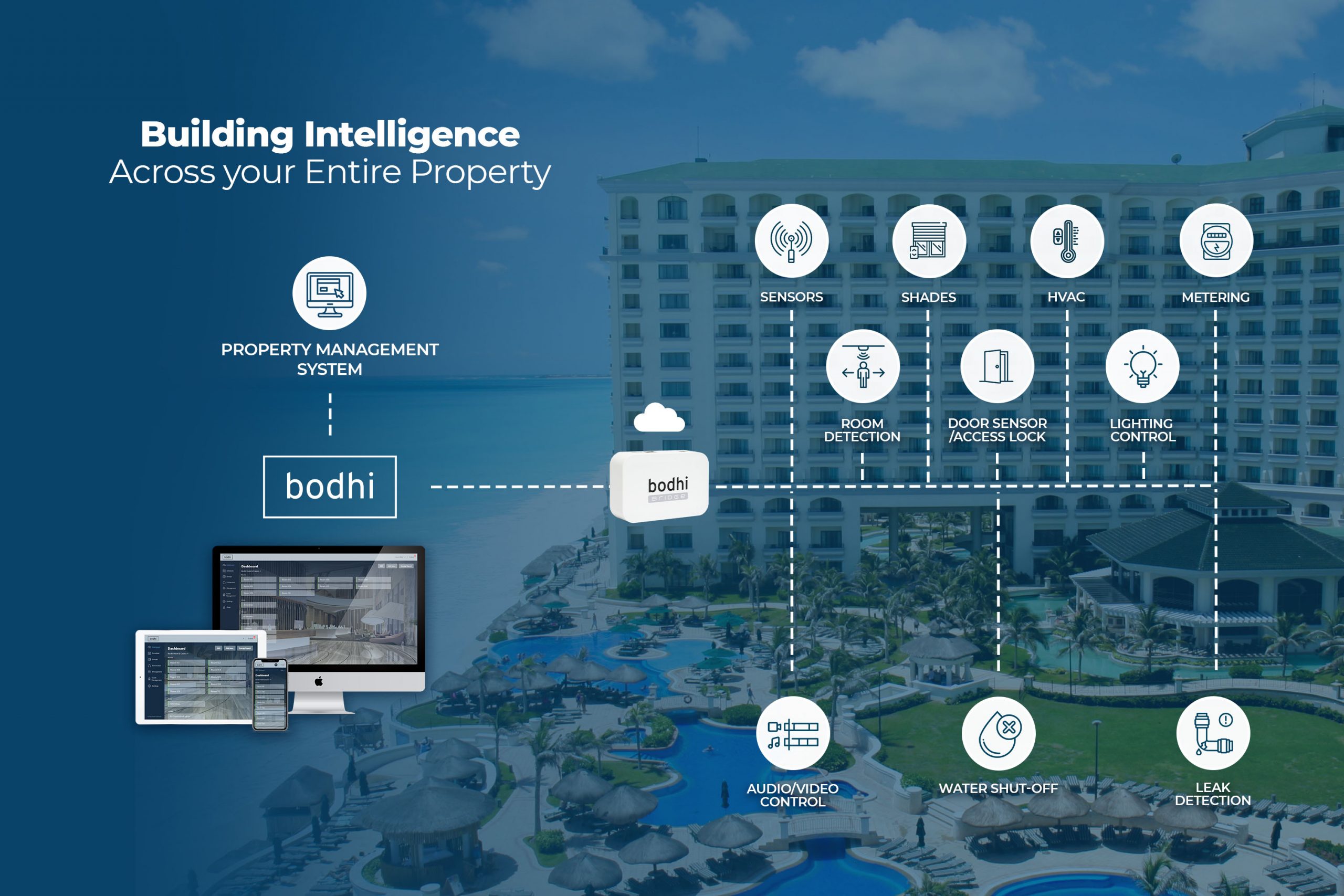 Wouldn't it be great if you could add automation and control to all of the building systems on your property – even the ones beyond the reach of Wi-Fi, Ethernet, or AC power?
Let's say you'd like to add intelligent control to your sprinkler system – or to a water shutoff valve – but you're having trouble budgeting the cost of trenching out to the device and installing the necessary shielded cable or conduit?
Now Bodhi can provide a much more affordable solution, through our intelligent building management platform and LoRaWAN technology.
Bodhi is the only building management solution that can automate and control key technology across your entire property –from the guestroom to the lobby to the pool and golf course – and provide data and analytics back to your PMS (property management system).
LoRaWAN is a Long Range Wide Area Networking protocol that allows IoT devices to communicate wirelessly up to 10 miles, yet uses so little current that the batteries that power them can last up to 10 years.
In practice, interference and obstructions such as buildings and walls may limit the distances you can achieve, but LoRaWAN provides more than enough range to serve a hotel, resort, office or residential campus.
Today, Bodhi can provide LoRaWAN connectivity through third-party LoRaWAN gateways.
By the fourth quarter, 2023, we will introduce our latest Bodhi Bridge accessories, which will connect the Bodhi cloud-based platform to Wi-Fi, LoRaWAN, and 4G/5G cellular data networks, and to a host of Z-Wave and Zigbee IoT devices including thermostats, occupancy sensors, leak and flood sensors, water flow sensors, shutoff valves, humidity sensors, door position sensors, controllable outlets, and water and AC power meters.
About Bodhi
Bodhi is a cloud-based building management platform that centrally monitors, analyzes, schedules and controls all of the technology on your property from a single interface — from lighting, climate, water, audio/video, electrical metering, and other building technologies. In doing so, it can simplify management, scheduling and control while saving you 10% – 45% of your energy costs.
Bodhi also improves client satisfaction through the Bodhi Guest and Resident Apps, for phone-based keyless entry, climate, lighting, shading, and AV controls, and easy access to property amenities, staff communications, and valet, housekeeping and other services.
Contact us to learn more about Bodhi and LoRaWAN