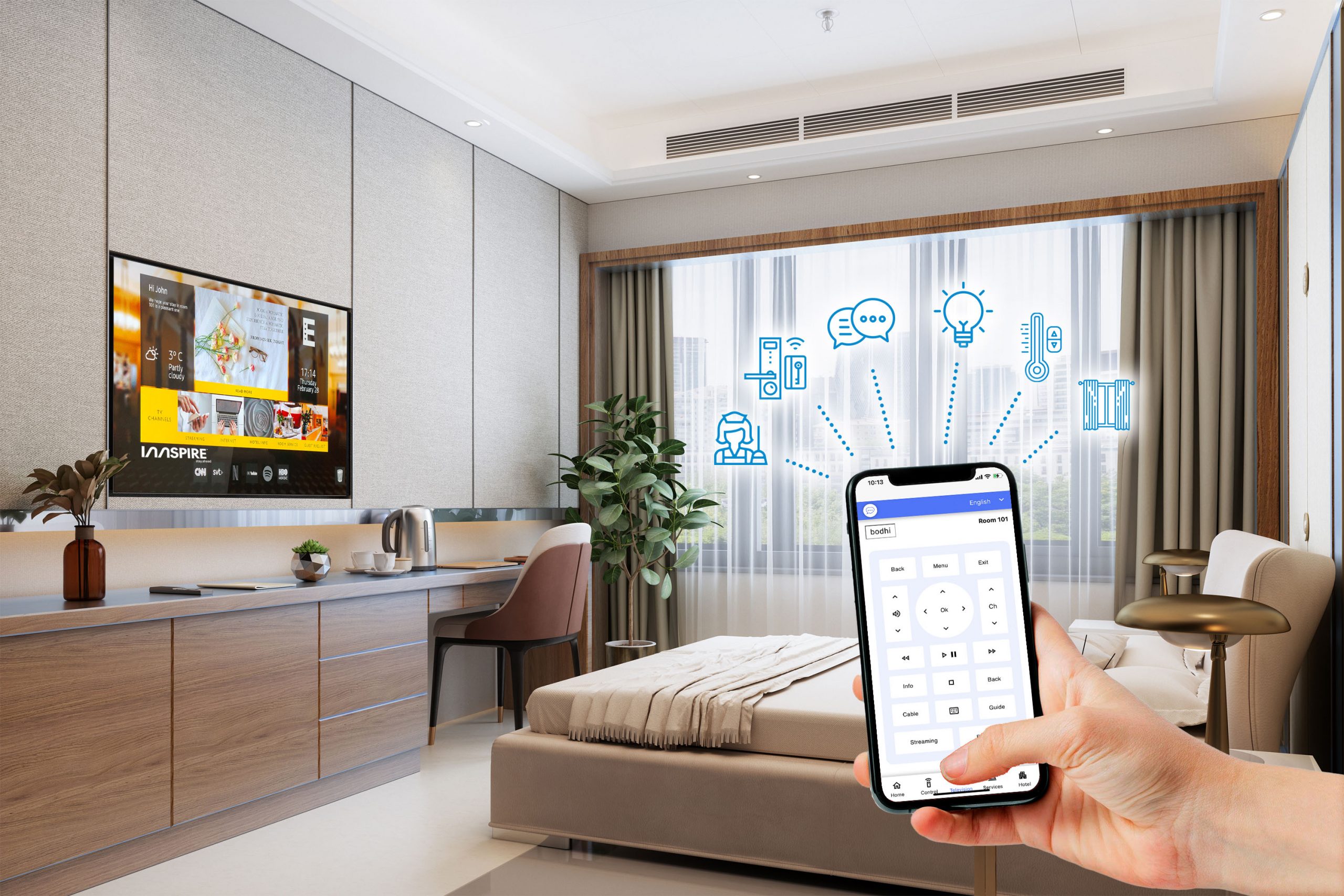 Bodhi and InnSpire are now partners, integrating Bodhi, the Bodhi Guest App and InnSpire's industry-leading entertainment controls for the first time.
InnSpire and the Bodhi Guest App
Through the Guest App, Bodhi allows your guests to use their smart phones to unlock their room doors, control climate, lights and shades, connect to housekeeping, valet, and reservations, and use a chat bubble for hassle-free communications with staff. Now the InnSpire partnership adds:
Full TV remote control
Optional smart TV connectivity for standard televisions
Chrome casting for IOS and Android devices
Connection to InnSpire features such as room service ordering, check-in and check-out via the room TV
Welcome scenes
Bodhi Cloud, the Bodhi manager's app, can automatically trigger guestroom systems to provide the perfect climate, lighting and background music when guests first enter the room.
Now the InnSpire partnership streamlines that process with a simple method to power up TVs to display a personalized video welcome message.
Energy savings
While Bodhi is all about the guest experience, it provides substantial energy savings via occupancy-based setbacks of climate, lights and other systems. Now InnSpire gives us a simple method to power down the TV when guests are out.
The Bodhi Dashboard
With Bodhi, you always have full monitoring and control of connected devices from the Bodhi management dashboard. That can now include guestroom TVs.
Bodhi and InnSpire customers
InnSpire provides a host of additional features and capabilities, including mobile check-in, room service ordering, hotel commerce, Wi-Fi connectivity and authentication, promotions, and payments.
Now, with Bodhi, InnSpire clients can add:
Full-property integration
Energy savings of up to 45%
Welcome scenes
Event scheduling
Multi-platform Dashboard
Predictive Maintenance
Expanded order management systems and device integrations
Learn more. Contact us today!