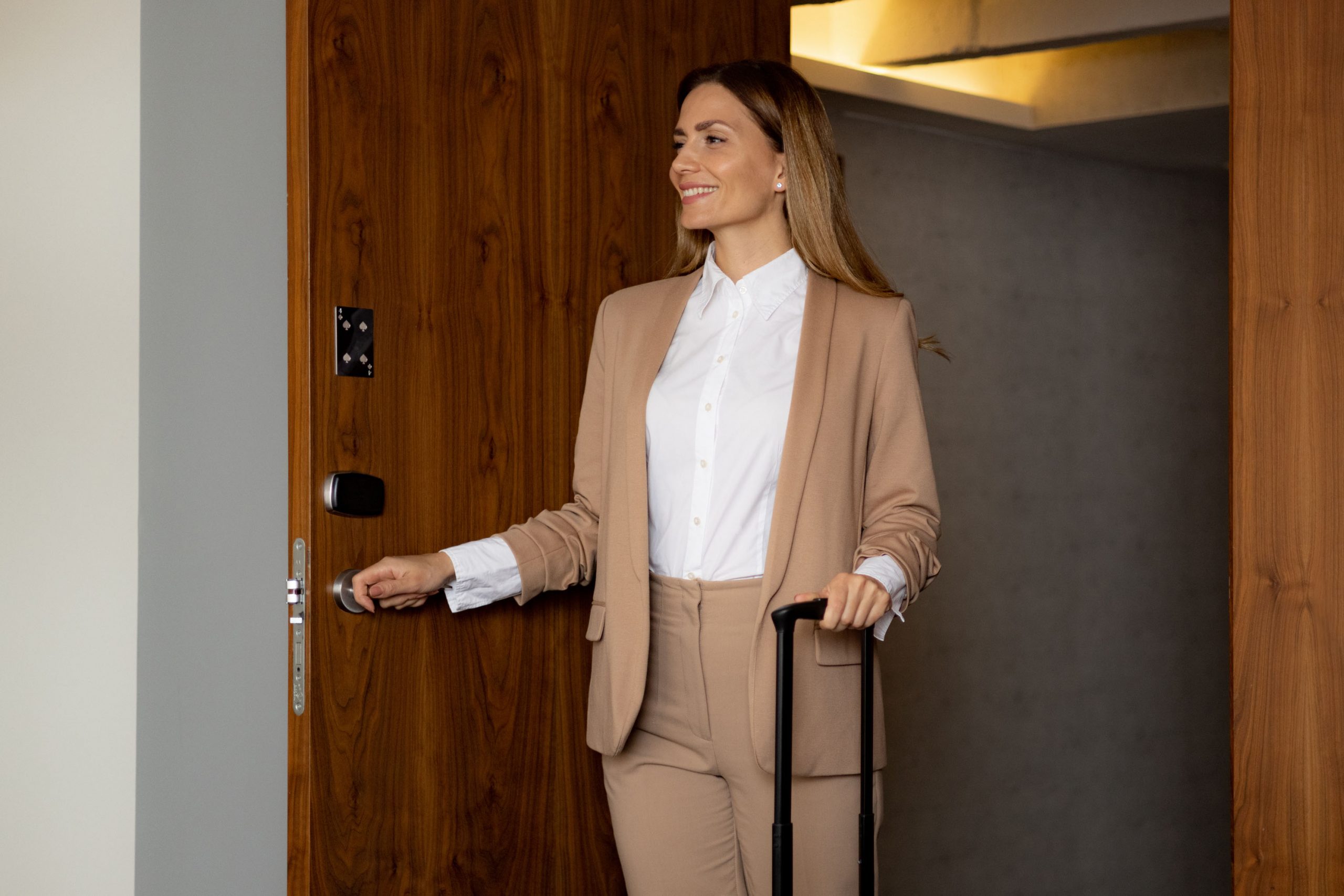 Making a memorable entrance.
How long do you have to make a first impression?
Studies from Princeton, NYU, and the University of York suggest that first impressions are formed quickly – in less than 7 seconds  – and other studies show they can last for months.
Thus the first moments of a guest's arrival at a hotel or resort are crucial in setting the tone for their entire stay—and  first impressions have a lasting impact, shaping guests' ongoing perceptions of the property.
Bodhi can be a transformative solution, redefining the guest arrival experience. Let's take a look at how Bodhi's innovative approach ensures a warm welcome and a pleasurable first impression.
A seamless, interactive welcome
When guests check in, they receive a personalized link to the Bodhi Guest App, a web-based mobile app, branded to your property, that gives them keyless entry into their room, suite, or condo plus the ability to customize their room settings, control in-room amenities, and even request hotel services.
The best thing about the Guest App is that there's nothing to download, and nothing to install: just a link that expires at the end of their stay. They don't even have to be on the property's Wi-Fi to use it, since it works with any browser on any kind of Internet connection.
Empowering the guest like this fosters a strong connection between guests and the property, ensuring a personalized and enjoyable stay from the very beginning.
A room awaiting your arrival
Imagine walking into your hotel room to be greeted by the welcoming ambiance of a comfortable temperature, warm lighting, light music, and a personalized welcome video displayed on the TV. Some properties recognize the appeal and will send a maid to prepare the room for certain important guests. Bodhi's intelligent automation makes it possible in every room, for every check-in.
It's simple to set up. Integrating seamlessly with the guest check-in system or property management system (PMS), Bodhi anticipates the guests' arrivals and begins cooling or heating their room before they even set foot in the door.
Once they step in, Bodhi will automatically trigger a welcome scene with the lighting, temperature, music, shading, and personalized message you specify, creating a warm, welcoming ambiance and letting your guests feel pampered.
Guests can also control temperature, lighting and entertainment systems with the Guest App or, if Alexa is installed, with voice commands (as well as with installed control panels, wall switches, remotes and the thermostat).
Energy savings without compromise
Efficiency and sustainability, tempered with the priority of guest satisfaction, lie at the core of Bodhi.
The latest International Energy Conservation Code (IECC) requires significant setbacks when a room is unrented: it must be set at 80° degrees F / 27 ° C during the cooling season, and 60° F / 16° C when heated.
Unfortunately, many compliant HVAC systems do not begin returning it to a comfortable setting until a guest opens the door.
Bodhi takes a very different approach. It meets the requirements but, when a guestroom has been unrented but is reserved, Bodhi begins restoring the room from the deep (unrented) setpoint to a lesser setback several hours before the guests are due to arrive.
When guests do arrive and begin the check-in process, Bodhi restores the thermostat to its final temperature, so that, in most cases, the room is at the perfect temperature when they first walk in the door.
This thoughtful approach not only reduces operational costs for the property and fulfills a commitment to environmental responsibility, but meets the need for the guest's comfort and satisfaction.
Bodhi is all about strengthening the guest experience
In the world of smart hospitality, the guests' arrival experience plays a pivotal role in shaping their overall perception of a property.
Bodhi's innovative approach to guest control, intelligent HVAC and seamless integration with the property management system ensures a memorable and pleasurable first impression for every guest.
Discover the key to creating unforgettable moments and fostering guest loyalty. Contact us today.